The Taba Story
We take pride in our First Nations legacy. In the Carrier language 'taba' means 'of the shore' or 'of the land'. 'Of the shore' celebrates Taba's commitment to all people—native and non-native—of Fort St. James, BC and the surrounding communities of Stuart Lake, the traditional lands of the Nak'azdli band. 'Of the land' echoes our peoples' centuries old commitment to the stewardship of the environment. 
Taba is a company with its roots and heritage in the land and the community.  When Simon Fraser journeyed up the Stuart River some 200 years ago, he was greeted by a vibrant community of First Nations people with a complex language and a rich culture. Recent archeological studies indicate that the Nak'azdli have inhabited this territory for thousands of years.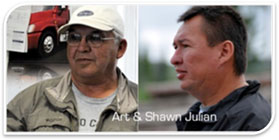 Taba's values—hard work, perseverance, integrity, respect and collaboration—are the wellspring of our success. These values are rooted in our ancestors' ability to survive and thrive on our traditional lands.  They have been handed down through the generations to Art and Shawn Julian, the father and son team who founded Taba Enterprises in 1994.  These values are the internal compass guiding the daily actions and behaviours of our managers and employees.  They are values we want to pass on to future generations.
Our purpose—Taba's reason for being—is to provide the inspiration and the opportunity to transform people and places.  Transforming people means providing the training, the jobs, and the personal experiences that motivate individuals to succeed to the very best of their abilities.  Transforming places is what Taba does; expertly and respectfully working raw land, helping mine operators access minerals safely and efficiently.
Fulfilling our purpose allows people to remain in their local communities, prosper personally and reap the collective rewards of resource development in the region.